Keeping Your Dishwasher from Clogging
Posted on May 2, 2019 by Melbourne Plumber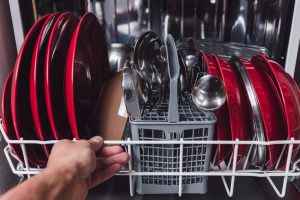 The modern dishwasher is a luxury for sure. Anyone who has had an electric dishwasher then moved to a home without one knows what a luxury they can be. But dishwashers can have their bad times too. They are not without their own problems.
Up to 75% of homes have an electric dishwasher.  So, you could say that people believe in the power and effectiveness of it. But, anyone who has had major dishwasher problems knows they can be a headache.
In this article we will provide tips to keep that dishwater running as smoothly as possible and try to keep you from having to endure the troubles that can be associated with the device.
Rinsing Plates
The number one piece of advice is always rinse your plates well. I know, this is why you bought the dishwasher, so you didn't have to rinse plates. But getting the major debris off the plate decreases the chance of a malfunction ten-fold. Give the plates a rinse and remove any large food debris. The dishwasher's job is to make sure the plate comes out sanitary and spotless.
Mineral Build-Up
If you do not have some sort of water filtration unit that treats water coming into the home, you will eventually have mineral build-up. It is a good idea to look into filters that filter the water coming into the home. This can kill many birds with a single stone.
If you have a well water system, a filter is an absolute must. You will face mineral build-up troubles very soon if you do not have a filter.
Don't Forget the Filter Basket
Most modern dishwashers have a filter basket to help catch debris that would otherwise cause trouble for the machine. Don't forget to check this (every few washes at minimum). It's just like the filter for your AC or clothes dryer, if you don't make sure its clean, it will cost you.