Thinking of Installing an In-ground Pool?
Posted on March 30, 2020 by Melbourne Plumber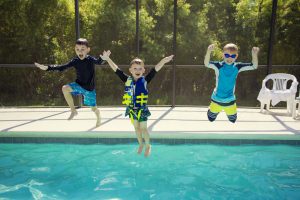 You want to install an in-ground pool. Sounds great. You can spend most of the year floating in your pool, drinking a cold beverage and soaking up the rays. Besides having the right amount of money to put a pool in, there are some good questions to ask, or better yet a checklist of things to consider before doing so.
Do Utility Lines Run Under Your Property
If you have access to the original building plans of your property, dig them out and take a look. If you don't have them, the local records office will have them on file. You need to know exactly where and where not to dig.
Do Power Lines Run Over Your Property?
The National Electric Code states that power lines must run at least 22.5 feet above the surface of the water. This is the minimum. Finding out the height of these power lines now will save you from running into problems down the road.
Do You Live in a Historic District?
Some areas known as historic districts do not allow the installation of a swimming pool. This is something you want to check out right away, before you spend dime one.
Local Rules and Laws
Make sure to check your town or city accordance about swimming pools. There are sometimes rules about how they have to be put in and what kind of enclosure you can have. All red-tape is done in the name of safety.
Conclusion
It is estimated that there are over 10 million swimming pools in the United States. A huge number of those are in the State of Florida. So, there are plenty of companies that offer this service. Make sure you hire one that follows all the codes and is licensed. Or you may really regret it.