Signs of a Serious Plumbing Problem Best Left to a Florida Plumber
Posted on September 16, 2016 by Melbourne Plumber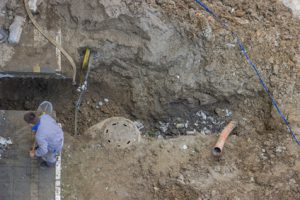 Many plumbing problems can be handled by your everyday homeowner, and tackling issues like a clogged faucet or a leaky pipe under the sink can really save you time and money. Unfortunately, not all problems are this simple or easy to address, and it's important to know when you have to call in an expert in Melbourne to help you resolve the problem. That's why we've put together a list of the most common signs of a serious plumbing problem. If you notice any of the symptoms below you should consider calling in a professional to help you with the issue.
Water Backing up through Drains
If you are experiencing water backing up through your drains or other fixtures that water normally goes down, it's likely that you are suffering from a severely clogged pipe. There could be serious debris or calcium deposits within your pipes, or you may even have roots or other outside obstructions causing issues in your system. Either way, this is a problem that you want a professional to deal with as soon as possible to ensure that you don't run into serious issues.
Your Water Isn't Hot Any Longer
While it's one thing to use up all the hot water and to be unable to take a hot shower for an hour or two afterwards, it's another entirely to be without hot water for several days at a time. If you aren't getting any more hot water, it's likely that you are suffering from a hot water heater problem. Usually when you're having this type of issue, it's best to call a Florida plumber to assess the issue. If you live in the Melbourne area, there are plenty of plumbers available that can take a look at your problem.
A Serious Drain Blockage
Many drains around your home will eventually slow down and stop functioning as well as they used to. Often you can clean out the p-trap or use a commercial drain cleaner to solve this problem, but not always. If you tried both of the above methods with no success, it's time to move on to calling in a Melbourne plumber to handle the issue instead. A seasoned plumber can identify the source of the blockage with a camera and figure out how to fix the issue quickly.
There are many plumbing issues that you can resolve on your own, but when you run into something that you are not sure about, or you simply don't think you can handle on your own, it's best to call in the professionals. Plumbing is very important for a properly functioning home, make sure that you're taking care of your system properly.