Removing a Mobile Home Bathtub Drain
Posted on May 18, 2016 by Melbourne Plumber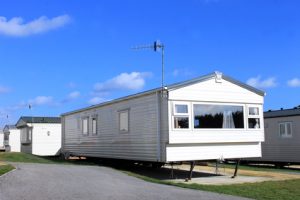 Most mobile homes have a different plumbing system than the site build family housing units.  There are noticeable differences in the plumbing systems and the way water leaves the mobile home.  Unlike site build homes, mobile home units don't often come with an overflow in the bathtub drain.  Given that Melbourne, FL is known for hard water buildup, replacing bathtub drains is fairly common, particularly with the older units.
Out with the Old and in With the New
Old drains tend to discolor over time.  They may rust, seals wear out and threads will eventually wear out if your tub shoe is a combination drain and stopper.  Hard water deposits can be removed with certain chemicals, but these chemicals shorten the lifespan of gaskets and rubber seals.  If your bathtub drain will not seal properly, remove the drain to check the state of the seal.  If you have the type of tub drain with a separate stopper, now would be a good time to replace it for a more convenient one with the twistable stopper.  The hardest part is getting the drain out.
Removing the Tub Shoe
You can remove the old drain, also known as the tub shoe, one of two ways.  If you have a garden tub as many mobile homes do, you will need to look under the tub to determine which way is needed.  If this is where your DIY line gets crossed, a Melbourne, Florida plumber will do the dirty work for you.  The tub shoe will either be removed by a dumbbell wrench stuck down in the drain and then ratcheted lose or there will be a nut on the bottom of the tub that will need to be carefully loosened.  Garden tubs are known for having the nut.
It is possible that the older tubs will lose their crosshairs, making the dumbbell wrench almost impossible to pull the tub shoe out.  It may be necessary to cut it out and then wedge a screwdriver down into the fitting.  Again, this may be an area best suited for a professional plumber who will have the proper tools to carefully remove the old tub shoe without cutting or scratching the surface of the tub which leads to rust and deterioration of the protective coating.
Once the old tub shoe is out, clean off the old plumber's putty so that the new drain will be able to seal properly.  Teflon tape can also help seal the threads for a snug fit that lasts longer.  Lastly, but certainly not least, don't forget to check the drain for leaks while you still have your tools out.