Tips on Designing an Elegant 21st Century Bathroom
Posted on August 14, 2015 by Melbourne Plumber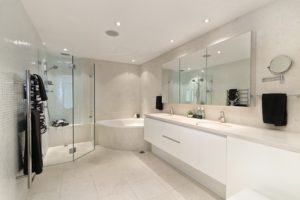 One of the easiest ways to add equity to your home is by remodeling your bathrooms into a contemporary personal paradise with a luxury spa type of feel.  Research has shown that most home purchase decisions are decided by the quality of kitchen and bathroom areas. Specialty bathrooms can be the make or break factor in closing a deal on a home sale.  Even if you aren't planning on selling your home in the near future, it is still a prudent investment in your home and overall happiness by giving yourself the gift of a comfortable, relaxing and inviting personal area where you look forward to unwinding from the stress of the daily grind.
In addition to more baths, today's homes often feature more high tech add-ons than specialized baths than in the past.  Easiest to create in newly constructed homes or additions, these specialty baths can also be carved out of unused guest bedrooms, hallways, and the space over the garage, or other existing areas.
Even the dreamiest bathroom has to deal with plumbing drains, water lines, and vent stacks. Bathroom floor plans generally fall into one-, two- or three-wet-wall layouts. A one-wall layout configuration lines up the sink, toilet, and shower along one wall. While it may be the most cost-effective design, it's also the most limiting.
Adding new lines for a new shower, sink, or toilet requires the installation of water supply and return waste drains in the walls, floors and ceilings to the point where connections can be made to the fixtures.  While the design process is a fun and creative experience, the actual roughing in of the plumbing is typically best handled by a licensed and insured professional.  In most areas, building code regulations state that the work either be completed or inspected by a certified contractor.  Having an in-depth understating of your home's plumbing system will give you the ability to work and communicate with your plumbing contractor in a more fluid fashion.
Before starting a full remodel of a master bathroom, some of things you should think about include the type of experience you wish to have.  Stand in the space and imagine yourself in a fancy resort.  What would it look like? What color schemes would you choose? What sort of fixtures?  Would you prefer a soaking tub or a fancy multi nozzle massaging shower with digital controls?  If your bathroom exists on an upper level, what would it look like with a skylight?  A secret to make it look even bigger is to have extremely high ceilings with skylights to allow natural light to flood the space.  Write these ideas down and then go back to them several times over the next few days and refine them.   You will find that through the power of your imagination, all the makings are there for a modern bathroom.  Perhaps you will envision tiled walls and floors, sleek lines, a frameless shower, big mirrors, double sinks, brushed nickel hardware, ample lighting, easy-maintenance, and tasteful detailing.
With so many beautiful styles and ideas out there, it's hard to pick just one. Often a day or two visiting open houses and custom showroom galleries are full of inspirational moments.  Luxury showers replicate the spa-resort experience in a dream bathroom. Plan on examining a variety of spray heads for the shower experience you desire. Ceiling-mounted rain shower showerheads soak you from above, while body sprays consisting of vertical rows of showerheads, and create a crisscross pattern for a water massage. Handheld showerheads allow you to direct the spray for washing your hair, rinsing off, or even cleaning out the shower stall. For a custom-made stall, choose your favorite waterproof material to cover walls, floors, and ceiling. Frameless glass doors showcase stunning marble tile work with a nice effect.
While many homes can accommodate a master bath adjacent to the master bedroom, a master suite has the bathroom actually incorporated into a section of the overall bedroom area, both enclosed behind a door that leads to the common hallway. Large or small, a master suite looks especially spacious and elegant when both the bedroom and the bathroom share a design scheme.  Although the bedroom is largely soft furnishings and the bathroom is mostly hard-surface installed fixtures, you can incorporate the same motifs (neoclassical, English country, Early American, soft contemporary, etc.) in both, using the same color scheme.  You may choose to alter the shades of each color to create variations on a theme. For example, an opulent European-inspired bedroom in wine with accents of hunter green, gold, and ivory may lead nicely into a master bath with hunter green fixtures, brass-gold fittings, and ivory ceramic tiles, sparked with towels and accessories in wine.  Whatever it is that your style and taste may be a new updated bathroom is sure to be a source of pride for you and your home.