Plumbing Problems During a Hurricane
Posted on December 17, 2014 by Melbourne Plumber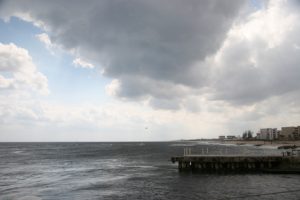 Part of living the good life in sunny, beautiful Melbourne, Florida means having to deal with hurricane season. Although the rest of the time makes it worth living here, hurricanes can cause great damage not only to structures and people, but to plumbing systems as well. Hurricanes can uproot trees and down power lines, not to mention lead to flooding which can cause expensive damage to your home.
For anyone living where hurricanes are possible, there are things you can do to help in case the hurricane travels down your path. To start, since flooding is likely to happen, it's a good idea to have a sump pump installed in your basement. You should consider one that works on batteries since power outages are likely after a hurricane and you don't want to be stuck with a basement full of water. If for some reason the basement does flood and the sump pump doesn't work, it's important to call a plumber because flooding can lead to electrical shock if water is present and you don't know what you're doing. Safety during hurricanes is important both outside and inside.
Another problem hurricanes bring is sewer backups. This problem is possible with both municipal sewage systems and septic systems. To prevent this from happening, you can have a plumber take a look at your sewer drain and have him routinely clean and  maintain it, to ensure it works properly in case of excess water. When your plumbing equipment is working properly, you will have a smaller chance of something going wrong, even during a hurricane.
Why You Need to Have a Plumber's Number Handy Before and After a Hurricane
Prepping your home before a hurricane helps to limit the damage that is done to it. Although you likely have homeowner's insurance to protect you, it's much easier to do a little preventative maintenance instead of filing a claim and waiting to get everything fixed. When you call a plumber to help inspect your home for any potential problems that may occur during a hurricane, you are limiting the damage that can be done. Being proactive with this can make a huge difference later on.
If you do find that your home experiences damages during a hurricane, make sure you are ready to call a trusted plumber you've established a relationship with. Not only will they be able to locate your home quickly, but they will know where everything is right away, which will enable them to help you as quickly as possible.