Remodeling Your Bathroom
Posted on October 16, 2014 by Melbourne Plumber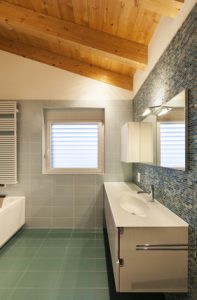 Whether you're updating your bathroom to make it look more modern or to increase the value of your home, it's important to consider the project from start to finish. Will you want to just paint and change the shower curtain and fixtures or are you going for a full scale remodel? Determining the depth of your remodel can help you to stay on budget and make sure you get exactly what you want, regardless of the size of your remodel.
When you consider the configuration of your bathroom, are you happy? Some older homes, even in Melbourne, Florida were configured in what would be considered strange ways today. Some builders put toilets behind doors or simply tried to put too many things into too small of a space. So when you're ready for a change, no matter how big or small, contact your local licensed plumber.
A master plumber can act as a contractor and has the ability to move any pipes or plumbing fixtures to a new location if you have decided to change up the layout of the bathroom during the renovation. They can also do easy jobs, such as installing new fixtures, updating the toilet, or installing a fancy new shower head. There really is no job a master plumber can't handle.
Peace of Mind When You Need it Most
Whether you're looking to move or just want a great new bathroom for yourself, calling in a licensed plumber can give you peace of mind. Not only will the job get done in a timely fashion, but it will be done right and kept to code for your local municipality. There will be no worrying if the fixtures were put in correctly or if the hot water will come out of the hot water tap and not the cold.
Depending on the complexity of the remodel, some of the pipes behind the walls may need to be moved. While this can be a big job for a homeowner, it's routine work for a licensed plumber. If your remodel does require the pipes to be moved, a plumber can also make sure the right connections are made to any adjoining points that connect outside of the bathroom area. When you call a licensed master plumber in Melbourne, Florida, you'll know you're getting a professional with years of experience under his belt, and this can translate to peace of mind for your remodel.