The Benefits of a Bathroom Remodel
Posted on September 16, 2014 by Melbourne Plumber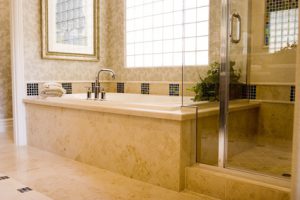 Whether you've been living in an outdated home or are considering selling your home, updating the bathroom can prove to be one of the best financial decisions you can make. If you're staying put, you can more efficiently design the space, increasing the room or just making it work better for your needs. Updating a bathroom also greatly increases the value of your home, so when you go to sell it, you can get top dollar. People looking for a new home are typically most concerned about the kitchen and bathrooms. Doing a complete kitchen remodel is very expensive, so if you redesign the bathroom you're guaranteed to make a profit while not spending anywhere near what you could on a kitchen remodel.
A Master Plumber – The Right Choice for Your Remodel
When you've decided to update your bathroom, it's important to hire a master plumber who can address any concerns or issues you might have. In addition to replacing any fixtures you might want to update, they can replace any old pipes and clean out any drains that may have been draining slowly. You can even get new rain shower faucets installed, giving your home a modern, sleek look. But regardless of your taste, updating a bathroom can give your home the appeal it needs, whether it's for your own enjoyment or to sell for a greater profit.
Considering the Future
The population is increasing in age and many older homeowners prefer to stay in their home as long as possible. While this is a good situation for many, it does pose a problem for anyone who may be having a harder time getting up out of a traditional bathtub or who may need additional support. Even in Melbourne, Florida, a master plumber can address these issues and suggest ways to improve the bathroom so that an aging adult can have full access to what they need with modern adaptations which will keep them in the home for as long as possible. Whether it's a walk-in bathtub or other safety features, a master plumber can easily help with any remodel needed.
So when you need your bathroom remodeled, whether to improve your home's value, give you a better design or even make it safer, a master plumber can help to get the job done right. With years of professional service under their belts, they can help guide you in the right direction, whether it's with a new design or just improving and updating an existing bathroom.